Season 3
Entry posted by Le Hefe ·
738 views
HT Supercross Leaderboards
Season 3 is officially over, with what has easily been the most successful season to date. So many contentions erupted throughout the endeavor, that is wasn't clear on who would finish where. HT Supercross continues to have the best membership, the best members, and the highest average attendance of any other squad. It is more than true to say that this squad is the best, and you all make that possible.
In the beginning we had not just Series races but also mini-events as well. I had stated that these would make a difference in the end. Soda Pop outgunned FSUFMX to take the highest Series total. However, it was because of the constant attendance at mini-tourneys that FSUFMX was able to pass up Soda Pop to achieve three total Season victories. So far, he remains the only person to ever win an HT Supercross season. However, with Soda Pop being an ever present force in both Series and Mini-Events, will FSUFMX be able to contain that title? Will Soda Pop, the lighting rookie be able to take up the mantel and be crowned the Season victor of Nationals? Only time will tell, and our clocks are ready to explode!
It wasn't just the omnipotent forces of FSUFMX and Soda Pop this season though, as the battles for the top 5 were waged just as malevolently and brutally. Purple Dinosaur takes the coveted third place position, his highest yet! Our gracious Ionized had one major nemesis this Season, his own connection. He takes a very valiant and well earned 4th place. Finished off our top 5 is a contender that showed up midway through the Season, Yugnoswam. He felt the stress of long Series races, but managed to pull through to get a top 5 spot.
This is not to say that everyone else did not earn something. Everyone this season had to trade paint at some time or another. From Chillybob DSG to EoE Oh SNAP (KGB Up Y0URS), I could only imagine how much they fought to get to the top. Sometimes, however, things don't work out as planned. I want to personally thank everyone who did not finish in the Top 5 for continuing to race and fight through sometimes benign Series conditions. Remember that you now have even more experience to carry over to the Nationals season. That is your most important aspect, and what gives you heart!
Next, is a very, very important part. Which Team wins the season? Teams are a brand new thing to HT Supercross, and this season we saw conflicts and teamwork of which the likes we've never seen. Finally, winning a race could be achieved through the honor of having someone in your team ward off any aggressors. Finally, being in HT Supercross could give you a sense of more purpose that you would already have as one of our outstanding members! Get ready, here are the Team Standings.
First Place: Rainbow BANANA Poop With 668.5 Points. Led by @Masta Hippie
Second Place: Tactical Advantage With 665 Points. Led by @Ionized
Third Place: No Fear FSUFMX With 482.5 Points. Led by
There, ladies and gentlemen stands the best team in HT Supercross. Team Rainbow BANANA Poop has pulled off consistent placement in Series time and time again. This gave them the perpetual edge to achieve the best team in HT Supercross. History is full of champions rising.. and falling. Teams are going to be hungry to bring down the victor, and the boys in BANANA Poop are going to have to forge a rainbow of steel to ensure their place up at the top of the Team mountain.
Congratulations to everyone who placed this Season. It was a rough ride, and by placing you show that you can endure many hours of stress on your wrist. Supercross is a force to be reckoned with, and it's not over yet. HT Nationals will have a go next, and we will see what explosive results take place there.
This... Is just the beginning.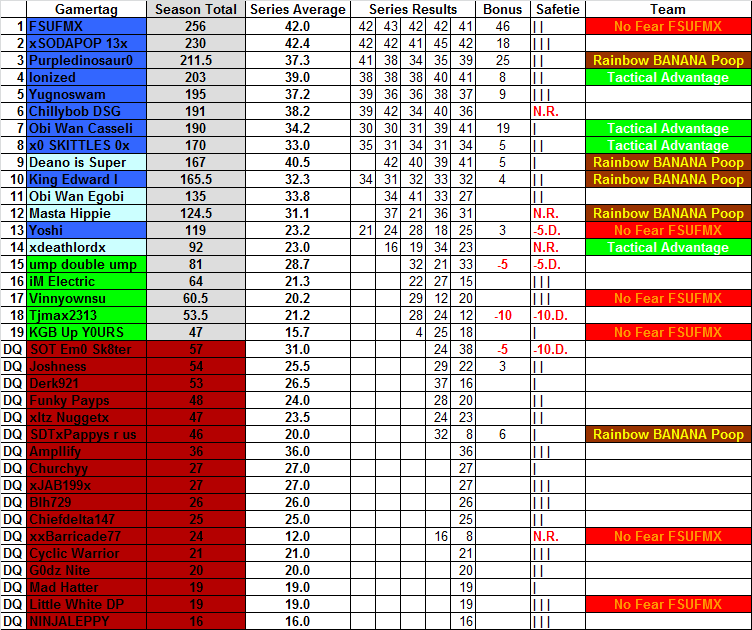 N.R. - No Safeties Remaining
-5.D. - (-5) Deduction from Season Total
Mini-Tournament Bonuses
Mini-Tournament Bonuses added:
FSUFMX - 13
Cassel - 7
smm - 6
Super Bad Blam - 5
Edward - 4
Joshness - 3
Chillybob - 2
Yoshi - 1
Deano is Super - 5
S0T Emo Skater - 5
Series 11
1.) xSoda Popx - 14/13/13/14/14/14 - 42
2.) FSUFMX - 13/14/14/13/11/11 - 41 No Fear FSUFMX
3.) Yugnoswam - 10/10/10/13/13 - 36 Tactical Advantage
4.) Umpdoubleump - 12/8/12/5/7/8 - 32
5.) Purpledinosaur0 - 11/10/10 - 31 Rainbow Poop
6.) x0 SKITTLES 0x - 9/12/8/7 - 29 Tactical Advantage
7.) King Edward I - 8/11/9/6 - 28 Rainbow Poop
8.) Masta Cassel - 3/12/12 - 27
9.) Blh - 9/8/6/9 - 26
10.) Itz Nugget - 5/4/3/5 - 24
11.) xxBarricade77 - 7/5/4 - 16 No Fear FSUFMX
12.) Ninja Leppy - 6/6/4/4/3 - 16 No Fear FSUFMX
13.) Vinnyownsu - 8/4/5/4/2 - 12
14.) xXYOSHI AxNxX - 2/3/1 - 6 No Fear FSUFMX
Series 10
1.) Deano is Super - 14;14;14;12;10 - 42
2.) xSODAPOP 13x - 12;14;14;13;14;14;14 - 42
3.) FSUFMX - 13;6;10;11;13;11 - 37
4.) Chillybob DSG - 12;8;11;10;13 - 36
5.) Yugnoswam - 11;11;12;11;9;12 - 35
6.) Ionized - 11;12;11 - 34
7.) Purpledinosaur0 - 11;10;13;7 - 34
8.) xJAB199x - 6;10;7;8;9;5 - 27
9.) TJmax2313 - 9;6;9 - 24
10.) xItz Nuggetx - 8;8;7 - 23
11.) Cyclic Warrior - 5;9;7 - 21
11.) Masta Hippie - 7;4;10 - 21
13.) Vinnyownsu - 7;7;6;5 - 20
Series 9
1.) xSODAPOP 13x - 42
2.) v Ionized - 41
3.) Purpledinosaur0 - 39
4.) Yugnoswam - 37
4.) Chillybob DSG - 34
6.) x0 SKITTLES 0x - 34
7.) King Edward I - 32
8.) Yoshi - 25
9.) xdeathlordx - 23
10.) G0dz Nite - 20
Series 8
1.) FSUFMX - 41 - No Fear FSUFMX
2.) v Ionized - 40 - Tactical Advantage
3.) Chillybob DSG - 40
4.) x Soda Pop 13x - 39
5.) Yugnoswam - 38 - Tactical Advantage
6.) Purpledinosaur0 - 35
7.) xXYOSHI AxNxX - 18 - No Fear FSUFMX
8.) EOE Oh Snap - 18 - No Fear FSUFMX
Series 7
1.) FSUFMX - 14;14;14;14 - 42
2.) xSoda Pop - 8;14;12;13;14 - 41
3.) v Ionized - 13;13;12 - 38
4.) Yugnoswam - 13;12;11;11 - 36
5.) Purpledinosaur0 - 12;9;13 - 34
6.) Chillybob DSG - 12;10;12;10 - 34
7.) x0 Skittles 0x - 11;10;12;10 - 31
8.) Yoshi - 9;10;9 - 28
Series 6
1.) FSUFMX -14/14/14/14/14/14 - 42 No Fear FSUFMX
2.) Obi Wan Casseli-12/15/13/11/13/11 - 41 Tactical Advantage
3.) v Ionized- 10/6/12/13/13 - 38 Tactical Advantage
4.) Amplify-12/11/11/13 - 36
5.) x0 SKITTLES 0x-8/7/4/12/10/12 - 34
6.) ump double ump-10/11/8//10/10/12 - 33
7.) Masta Hippie-13/6/7/11 - 31
8.) purpledinosaur0-11/9/5 - 25 Team Pappys
9.) KGB Up Y0URS-9/5/9/7 - 25 No Fear FSUFMX
10.) Yoshi-8/6/7/9 - 24 No Fear FSUFMX
11.) Little WhiteDP-7/5/7 - 19
Series 5
1.) Chillybob DSG-15/14/13/13/13--42
2.) Deano is Super-13/12/14/14--41
3.) FSUFMX-13/11/13/14--40
4.) v Ionized-12/10/13--35
5.) King Edward I-11/12/9/10--33
6.) Yugnoswam-9/8/5/11/12/9--32
7.) x0 SKITTLES 0x-8/10/10/10/11--31
8.) Obi Wan Egobi-8/11/8--27
9.) chiefdelta 147-6/6/7/12--25
10.) TJmax2313-7/6/8/7/6--22
11.) Yoshi-4/4/DNF/7/6/DNF--17
Series 4
1.) FSUFMX - 14;14;14;13 - 42
2.) Cassel - 12;14;13 - 39
2.) Chillybob - 9;12;10;12;13;14 - 39
4.) Masta Blastr - 8;14;11;10;11 - 36
5.) Deathlord - 10;10;12;12 - 34
6.) Ionized - 7;11;11;10;11 - 33
6.) Obi Wan Egobi - 13;8;12 - 33
8.) Purpledinosaur - 11;7;9;10 - 30
9.) Skittles - 7;9;6;8 - 24
10.) Yoshi - 6;7;8 - 21
11.) Yugnoswam - 7;9 - 16
Series 3
Series Results:
1.) Egodude / 13;14;14 / 41
2.) Deano is Super / 14;13;12 / 39
3.) Chillybob / 12;9;11 / 32
3.) Edward / 12;10;10 / 32
5.) Purpledinosaur / 9;8;14 / 31
5.) Cassel / 8;12;11 / 31
7.) Joshness / 13;9;7 / 29
8.) Funky Payps / 7;13;8 / 28
9.) Churchy / 10;14; 3 / 27
10.) Ionized / 10;8;7 / 25
11.) Em0 Sk8ter / 10;9;5 / 24
12.) IM Electric / 0;13;9 / 22
13.) Mad Hatter / 4;5;10 / 19
Series 2
SERIES RESULTS
1.) purpledinosaur0--41
2.) Deano is Super--40
3.) S0T Em0 Skater--38
4.) Derk921--37
5.) Obi Wan Egobi--34
6.) EoE FSUFMX--32
7.) SDTxPappys r us--32
8.) King Edward I--31
9.) x Cassel x--30
10.) iM EIectric--27
11.) v Ionized--23
12.) vVT3hJoShnss95--22
13.) Funky Payps--20
14.) xdeathlordx--19
15.) xxBarricade77--8
16.) Yoshi--6
17.) KGB Up Y0URS--4
Series 1
Series Results:
1.) EoE FSUFMX--33
2.) x Cassel x--30
3.) purpledinosaur0--26
4.) ump double ump--21
5.) xdeathlordx--16
6.) Derk921--16
7.) iM EIectric--15
8.) chillybob DSG--15
9.) SDTxPappys r us--8
---
Report Entry