HC Death Cam Tutorial
Ever since the First Halo 3 Hardcore tourney, people have been wishing for Death cameras because face it, nobody likes to look at nothing for 5 laps. Thanks to bungie and Halo: Reach this problem has been officially solved. No longer to do have to ask who's still racing or who's in the lead, you can just pay a visit to your D-pad and find out for yourself. Now onto the Tutorial.
Before starting anything you have to make sure your HC track is compatible with the "Race" gametype. If you need help with that then check out this topic
http://www.halotrack...-race-gametype/
Ok now on the few simple steps on making death cams
Step 1: Place your First checkpoint. To have effective death cams you should place your first checkpoint near the beginning of the race and before any traps or high probable dying areas
First Checkpoint is before any traps so that all the racers have a high chance of getting it before dying (like so VV)
Step 2: Placing your death cams. Ok so the great thing about death cams is that they can be almost anything you are able to spawn. Technically you could have a giant block be a death cam but there are problems with things like that which I will talk about. For the purpose of this Tutorial I'm going to have My death cams be "Initial Loadout Cams" and "Traffic Cones". Now good death cams are the ones that give you a good vantage point of large portions of the track, nobody wants to look a dark corner so don't put your death cams in a dark corner (get it? i hope so...). For Me I'm going to place My Traffic Cones at places on the track so you can get an eye level with the racers (like so VV)
And for the initial loadout cams, I'm going to place them out in the sky so people can see a wider view and tell how close racers are from eachother. These are also good for scenery shots or Track overviews so keep that in mind. (like so VV)
Step 3: Make your Death Cams Compatable (
MOST IMPORTANT STEP!!!
)
Ok now that you have your death cams in nice spots that give you good vantage points of the track we're going to make them compatable (make em work) Assuming you followed Smm's guide to making tracks "race" compatable your first checkpoint should be set up with "Spawn Sequence: 0" and "Game Type Label: Race_ Flag" if it is then go to your first Death Cam and click into Advanced Settings and change the Spawn sequence to
"Spawn Sequence: 0"
(if it is already then leave it that alone) and change the Game type label to
"Game Type Label: Race_Flag",
Still with me? ok good the hard part is over. Now go to your second, third, fourth ect... Death Cam and use the
SAME EXACT settings as the first Death Cam
. That means "Spawn Sequence: 0 " and "Game type Lable: Race_Flag".
Step 4: Place Second Checkpoint
After you have made all your Death cams compatable with the first checkpoint it's time to place your second Checkpoint. The Settings for the Second Checkpoint should be as follows
"Spawn Sequence:1"
and
"Game Type Label: Race_Flag"
.
As all HC tracks should only have 2 checkpoints you need to place the second checkpoint very near the end and close to your first checkpoint. The most efficient way top do it is right before the spawns where there aren't any traps in between the first and second. Long explanation short, you shouldn't be able to die easily from the second checkpoint to the first. (like so VV)
Step 5:Test your Death cams
If you followed the directions to the letter then jump on into custom games and test out your death cams. A quick way to know if you were successful is by checking to see if there are lots of waypoints when you spawn (like so VV)
and then only one waypoint after the first checkpoint (like so VV)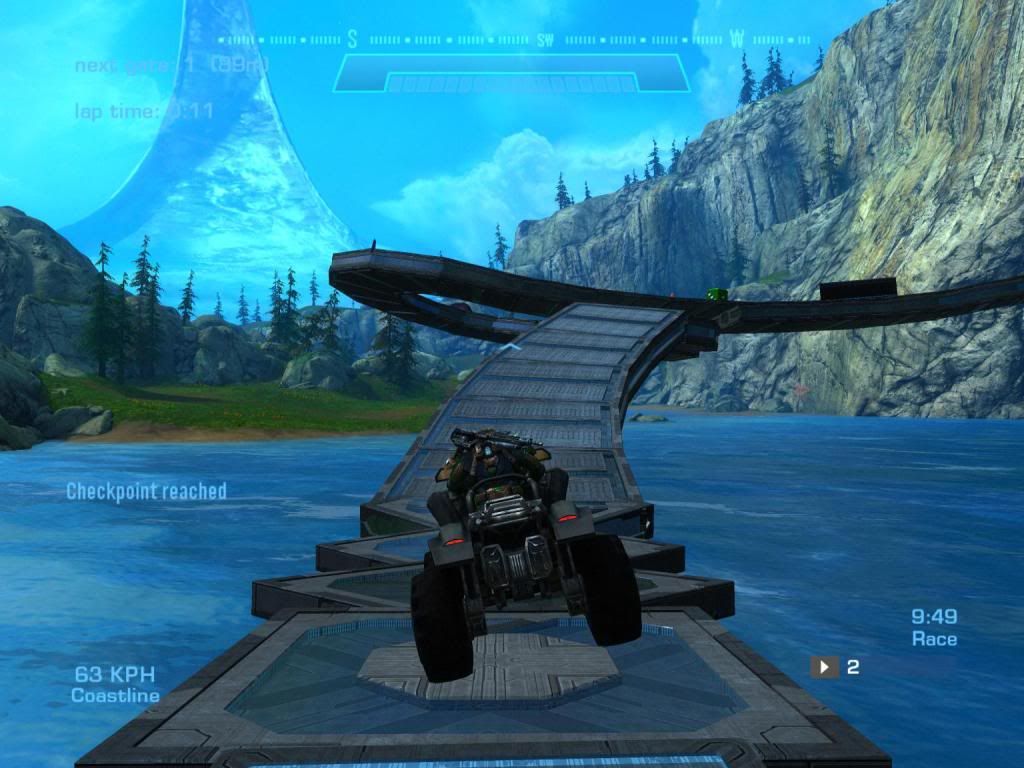 And there you go, your HC track is now prepped and ready for dying.
(A quick last minute note, if you try to play your Death cam track with a Race gametype that allows you to respawn then the death cams will act as respawn areas)