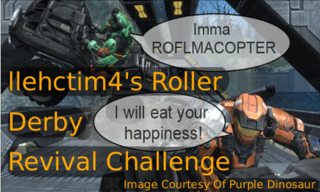 Image also courtesy of Masta Hippie
llehctim4's Roller Derby Revival Challenge
Description:
Now, you may or may not know what Roller Derby is. Basically you race around but half the people go one way, the other half go the other way so there are lots of collisions. It was created by Purpledinosaur0 and vVT3hJoShn3ss95, there is a topic about it here.
This challenge, will be to revive Roller Derby and make lots of new maps for it.
I will then host a tournament on these maps and judge the winner.
Rules:
It has to be a compatible roller derby map.
It has to have spawns set so one team goes one way and the other team goes the other way (look at Purpledinosaur0 's Turbo map in the forge)
To find out how to set it up, look at Purpledinosaur0 's Turbo map in the forge, it's too hard to explain here.
The track(s) must be made by you, if other people helped, please list them.
You may submit as many maps as you like.
It must be even which ever way round you go (so one side doesn't get an unfair advantage).
If it is on the Defiant or Anniversary maps I will not be able to test it, however I will just get someone else to host that bit of the tournament.
It must have been started after this challenge was posted.
Submissions:
Map Creator(s):
Map Name:
Brief Map Description:
Download link (343i fileshare):
HT Map Post (if there is one):
Pictures/Video (Optional, In a spoiler):
Judging:
I will host a tournament with all these maps
I will then make a thread for community judging, the map with the most votes will win
Rewards:
First Place: 150 HT points + userbar
Second Place: 100 HT points + userbar
Third Place: 50 HT points + userbar
Deadlines:
Maps by: Saturday 14th July
Testing tournament: Saturday 21st July (Probably)
Community judging: Sunday 22nd July - Sunday 29th July
This post has been edited by llehctim4: 03 July 2012 - 09:02 AM