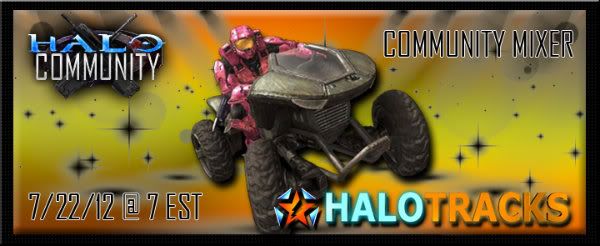 I am proud to announce that the Halo Community members have been invited to a mixer with the members of HaloTracks!
When: Sunday the 22nd, 7:00PM - 9:00 PM EDT.
For those of you not familiar,
HaloCommunity
is a community in the Halo Universe that specializes in community events and tournaments. We have many interesting members, from forgers to MLG tryhards! If you want to take a break from trying hard in matchmaking, or if you enjoy casual racing on fun and interesting racing maps, then be sure to join us this Sunday.
---
Rules:
Have fun! Whatever that means to you. If you want to drive around in circles, great! If you want to go tryhard and win great also! In order to preserve the fun, we should have some pretty basic rules of conduct during the night of the mixer. Remember that if you participate in this site sponsored event you are representing your respective site, and we want to have a great time, but we want to conduct ourselves in an fun and appropriate manner.
1. No GRIEFING. We will be playing mostly racing style games. Do not intentionally knock racers off the map, drive backwards with intent to slam into the lead racer, or anything else that may be considered griefing.
2. Should we venture out into Matchmaking or other non-racing custom games, Standard HC game night rules apply. No holding the objective, keep the teabagging and trash-talking to a minimum, and absolutely nothing considered a bannable offense from your respective site. If you have to ask, it's probably safe not to try it.
Respect your party captain and follow their instructions and we will have a great event!
Please reply to this thread to sign-up so we can get an idea of how many lobbies we need to host!
From
Jeffh3962
:
Halo Community are pending affiliation with HaloTracks. We are using this mixer simply to test how both communities play together. We will be doing events like these frequently. Please treat Halo Community with the respect that they deserve, and let's show 'em a thing or two about racing in Halo